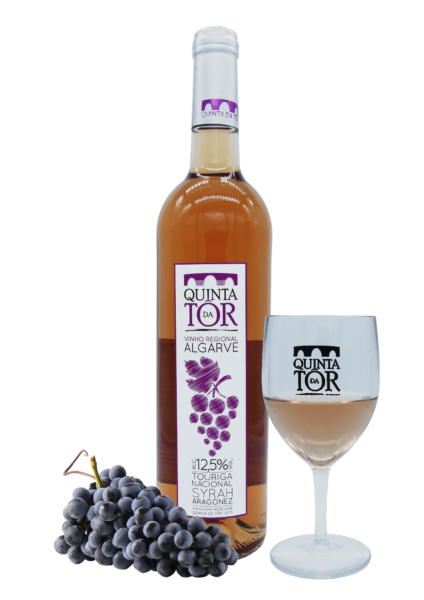 Quinta da Tôr – Rosé
Vineyard located in Tôr – Loulé, which has a terroir conducive to a balanced maturation.
Salmon colour with slight pink gleams.
Intense aromas with fresh gooseberry and chocolate bonbons. Well balanced and excellent freshness, with fruity persistence.
It has character and clear culinary prowess for Summer dishes.
Name: Rosé (2015)
Price: 5€
Type of wine: Rose
Grape variety: 10% Touriga Nacional; 35% syrah; 35% Aragonez
Vintage: 2015
Bottle: 750 ml
Alcohol percentage: 12,5%
Harvest: Traditional, manual
Winemaking: Stainless steel vat, with temperature control.
Stage: Stainless steel vat
Winemaker: Pedro Mendes
Appearance: Salmon with pink tones
Tasting notes: Fresh gooseberry, English bonbon. Intense, well-balanced, fruity and persistent.
Serving Temperature: <12ºC
Serving with: Salad, cheese and turkey, pork or chicken meat.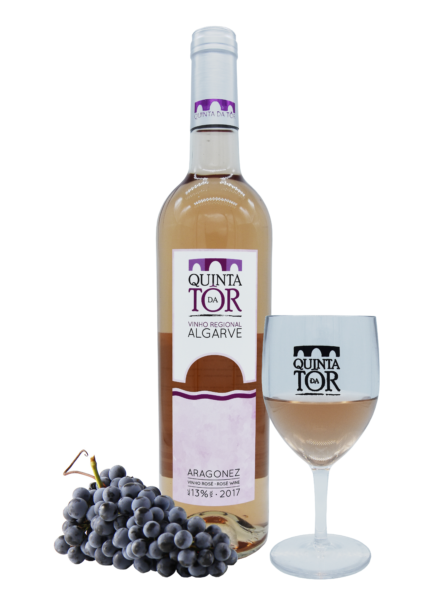 Quinta da Tôr – Rosé 2018
Cherry blossom pink colour.
Scents of white fruit pulp with notes of mint and green tea.
Dense, balanced acidity and persistent finish in the mouth.
Name: Rosé (2018)
Price: 5€
Type of wine: Rose
Grape variety: 100% Aragonez
Vintage: 2017
Bottle: 750 ml
Alcohol percentage: 13%
Harvest: Traditional, manual
Winemaking: Stainless steel vat, with temperature control.
Stage: Stainless steel vat
Winemaker: Pedro Mendes
Appearance: Cherry blossom pink
Tasting notes: White pulp fruit, mint, green tea. Dense, balanced with a persistent finish.
Serving Temperature: <12ºC
Serving with: Lounge wine, salad, sushi, seafood