Amuado – After dinner
Sweet wine, ideal for desserts. "Amuado" means sulky.
Information
Name: Cabernet Sauvignon
Price: 7€
Type of wine: Red
Grape variety: 100% Carbernet Sauvignon
Vintage: 2017
Bottle: 750 ml
Alcohol percentage: 14%
Harvest: Traditional, manual
Winemaking: Stainless steel vat, with temperature control.
Stage: Stainless steel vat
Winemaker: Pedro Mendes
Appearance: Intense Garnet
Tasting notes:Notes of dried fruits, English cake, strawberry jam and aromatic herbs. Smooth and absorbing in the mouth.
Serving Temperature: 14ºC
Serving with: Dried figs, dark chocolate, nuts cake, Dom Rodrigo, carob tart, roasted almonds. Or serve with an ice cube and lemon peel.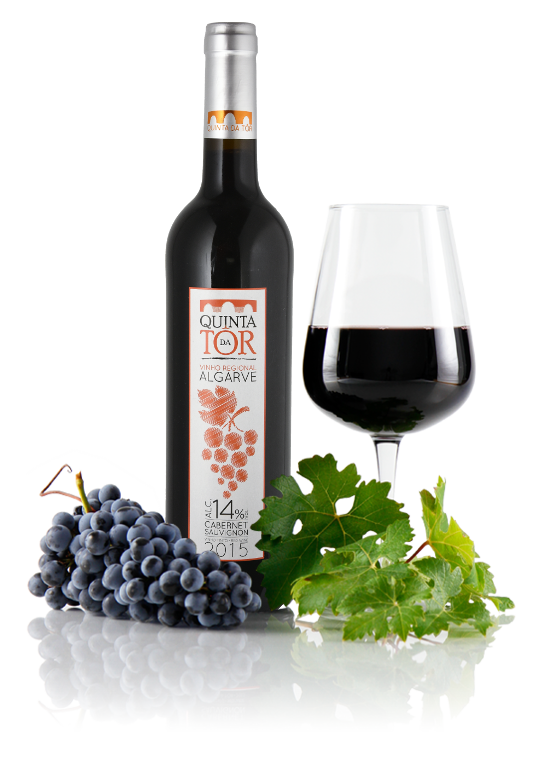 Quinta da Tôr – Cabernet Sauvignon
Vineyard located in Tôr – Loulé, which has a terroir conducive to a balanced maturation.
Deep ruby color. Intense aromatic profile composed by scents of ripe red fruits and fruit jams.
Wine with much character and volume and a velvety texture.
Information
Name: Cabernet Sauvignon
Price: 5€
Type of wine: Red
Grape variety: 100% Carbernet Sauvignon
Vintage: 2015
Bottle: 750 ml
Alcohol percentage: 14%
Harvest: Traditional, manual
Winemaking: Stainless steel vat, with temperature control.
Stage: Stainless steel vat
Winemaker: Pedro Mendes
Appearance: Deep ruby
Tasting notes: Ripe red fruits, fruity jams, spices. Character, volume with a velvety texture
Serving Temperature: 16ºC
Serving with: Roasted chorizo, strong cheese (goat, Roquefort, brie). Beef and raclette